Percolator bongs add a whole new jam to bong filtration. They come in so many different styles we had a time going through them all, too. Percs add filtration without extension, meaning you don't have to get the tallest bong ever to get a cool, clean hit.
You have drum percs, honeycombs, showerheads, etc. It really takes a minute to understand which one is the best fit for your smoking style. But don't worry, we did some of the work for you. We did some research and some testing (hard job, I know) to find which ones were really updated for the 2021 season – god knows we need a more relaxing year.
We are confident one of these five will help you get those cool, relaxing, bubbly hits you are looking for.
The Goods
Here, we have 5 percolator bongs for you that deliver on a promise – smooth hits and great glass. These are for the smokenprenuer (ya, I made that word up, but its true) because smoking with a perc elevates your hits. So let's get down to business.
Best Percolator Bongs To Keep Your Hits Cool and Bubbly
Rock Glass has taken the typical beaker aesthetic and ramped things up a little, creating a stand-out bong that fits a lot of filtration into a compact 9".
The bottom beaker holds a showerhead percolator, softening and diffusing the smoke before it makes its way from the main chamber to the higher mini chamber, before finally traveling to the mouthpiece. What you get is a smooth hit with the heat and harsh qualities removed from it and leaving pure, unadulterated good taste.
The deep bowl can also be removed and switched out for a quartz nail if concentrates are more your thing, and it includes a 14mm female joint.
Other features include:
9" tall
Showerhead percolator
Beaker shape
Deep bowl
14mm female joint Best Percolator Bongs To Keep Your Hits Cool and Bubbly
Snoop Dogg's offering to the percolator bong market is a stylish number, named after Atlanta airport and accented with colored glass and simplistic decals.
The bubble base design contains a slitted pendant perc inside alongside a fixed 14.5mm downstem, creating a rapid-cooling system for a soft and smooth toke. At 11.25" tall this is one of the more compact bongs on our list, yet its size makes for a comfortable smoking session, and the smaller stem doesn't hinder the experience.
Made of borosilicate glass, this bong has a 14.5mm female joint with a 14.5mm male herb bowl and handle, all supported by a thick and stable flat foot. It even comes delivered in a decorative box, perfect if you're looking to gift it to someone.
Other features include:
11.25" tall
Made from borosilicate glass
Fixed slitted pendant percolator
14.5mm female joint
14.5mm herb bowl with handle
Bubble base with thick flat foot
Colored accents on foot, percolator, mouthpiece, and bowl.
Part of Snoop Dogg's glass line
Available in three colors (milky jade, black, and white) Best Percolator Bongs To Keep Your Hits Cool and Bubbly
With the gold leaf in the logo, the G-Spot bubble base perc bong adds a quiet touch of bling to your smoky bubbles.
The clean lines and muted colorway of this bong allow its function to do the real talking. Standing just shy of 20" tall and built with a dome percolator inside, the combination of long stem, bubble base perc function delivers smooth, bubbly hits every time. This pipe comes with a diffuser downstem and a glass sliding bowl, both of which have 18.8mm joints and roll stoppers.
Additionally, this bong utilizes G-Spot's pioneering original solid tank joint, an extra-thick layer of glass to withstand more, making the joint virtually indestructible.
Other features include:
19.7" tall
Flat 12.5 cm diameter foot for stability
4" diameter bubble base
Dome perc
Original solid tank joint
18.8mm diffuser downstem
18.8mm glass sliding bowl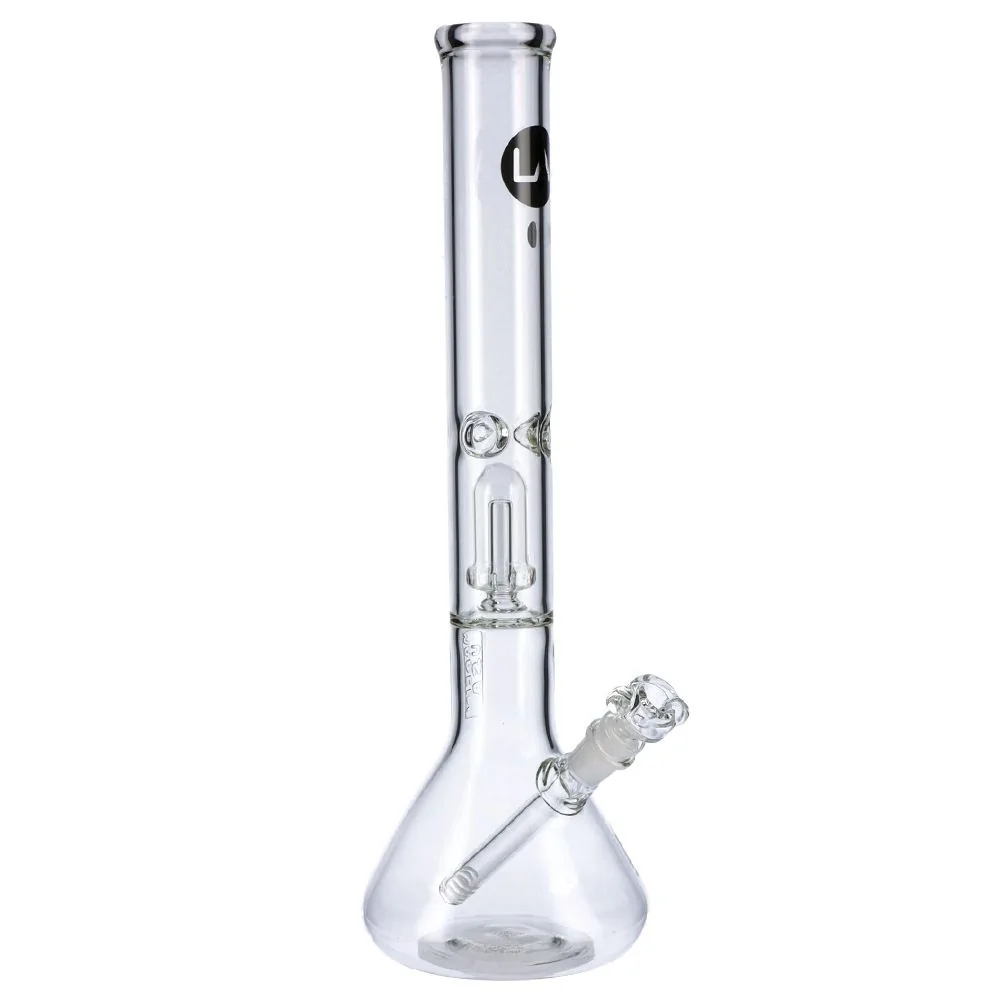 Best Percolator Bongs To Keep Your Hits Cool and Bubbly
Size doesn't *always* matter but when it comes to bongs it certainly helps. And you don't get much bigger than this whopper – standing at 26" tall it packs loads of filtration into its lean frame.
Such a long stem leaves plenty of room for cooling methods and LA Pipes have delivered with THREE showerhead percolators as well as ice notches for that extra-chilly touch. Supported by a sturdy beaker base with an inside-cut 18.8mm > 14.5mm slitted diffuser and a 14.5mm male herb bowl, the 50mm diameter tube ends with a comfortable rimmed mouthpiece, topping off the long, smooth journey the smoke goes through, losing any harshness and only enhancing the flavor of your weed.
While it's not exactly the most portable of bongs on our list, it's worth making room in your bag for this just to be the person who shows up at a session with this behemoth to toke on.
Other features include:
26" tall
Made from 5mm thick borosilicate glass
Triple showerhead percolation
Ice notches
18.8mm ground joint
Inside-cut 18.8mm > 14.5mm slitted diffuser
14.5mm male herb bowl
Rimmed mouthpiece
Beaker base Best Percolator Bongs To Keep Your Hits Cool and Bubbly
The dome perc combined with ice notches makes for a smooth, cool smoke from this stemless pipe.
The coordinated colored mouthpiece, dome, and base go nicely with the worked glass sections throughout the pipe and the bowl, which results in a sturdy and comfortable pipe with bubbles a-plenty. Crafted from 5mm thick borosilicate glass and standing at 15" tall, this ice bong comes complete with an 18.8mm worked glass bowl and slick Black Leaf black and gold branding.
Other features include:
15" tall
Made from borosilicate glass
Glass dome perc
Black colored mouthpiece, dome perc, and round base
Worked glass bowl and pipe sections
Ice notches
18.8mm worked glass bowl
What is a Percolator Bong and how does it work?
Bongs were designed to do one thing: deliver a smooth smoke. And while the water in a traditional bong goes some way to do this, a percolator adds a lot of extra filtration in a small space. As a result, you get a load more bubbles for your buck and pack a lot of cooling effects without needing to go BIG with your bong.
Essentially, after the smoke is filtered once through the main water chamber, it's further broken up into smaller elements through the percolator. By the time it reaches your mouth, the smoke has had plenty of time to cool as it runs through the perc and you don't get the harsh, hot burn sometimes associated with a traditional bong.
Types of Percolator Bongs
Percolators come in all shapes and sizes, delivering different levels of filtration and aesthetics. Here are some of the styles you can find:
Honeycomb
Created from round discs filled with small holes to filter the smoke through, these percolator bongs can have a few layers of "honeycomb" to add additional filtration without slowing down the pull.
Showerhead
Resembling (unsurprisingly) a showerhead, this perc is usually formed as a flared tube with slits in the flare, pulling and diffusing the smoke through before reaching the mouthpiece.
Tree
Designed like the branches of a tree, each branch holding a number of slits for the smoke to travel through, this perc provides great filtration in a small space
Spiral
Visually appealing, the spiral feature is different from the rest in that it doesn't have holes or slits for filtering the smoke, just the added real estate the spiral delivers in the journey to the mouthpiece.
Final Hit
When you want the smoothest hit from your pipe, the most effective way to get that is to add a percolator bong into the mix. Adding some bubbly awesomeness to your bong delivers a cool smoke for a comfortable and long-lasting session that's fun whether you're smoking solo or in a group.
Any way you go about it, these aren't for the weak, they hit fiercely. Additionally, they come with sophistication and engineering that you just couldn't find back in the day. Whatever you choose though, as always, make sure to enjoy responsibly.