Spoon pipes are a classic hand pipe design that has been around since blowing glass pipes has been a thing, gaining popularity in the late 60s. As you guessed it, they look like a spoon – or an ice cream scoop. Most are made from blown glass, as we mentioned. However, now that pipes are not under attack, there are so many new types – metal, silicone, stone, even a Beaker Spoon bowl?
Here, I offer some beautiful pieces. Spoon pipes are common among cannabis smokers, and they provide a clean, mild hit that typically leaves the flower's flavor intact – especially when they're glass. Some can be thinner than others, so "portability is durability" because most are sized just right for your pocket anyway. But, you can always get a pouch or case.
Spoon Pipes
Whatever you are into in the weed pipe sector, I am confident our top five spoon designs will set you up for smoking success. And, spoon pipes are typically a favorite among smokers.
Best Spoon Pipes You Can Toke Almost Anywhere
Dichro glass changes color, taking your smoking on a journey. These spoon pipes are in abundance, a favorite among glass fiends, and typically found in any collection.
The glass is thick and does a great job of saving the flavor of the herbs. When you choose the Dichro spoon pipe, you will get a random color variation in the mail – no two are the same. However, they state they do their best to offer you a color close to your choosing.
It is hard to list features of such a straight-forward pipe, but don't take that as lacking. This smooth hitter has a 5-star rating and, well, most things are a favorite because they work well.
Features include:
Thick, borosilicate Glass
3 to 5 inches long
Many different color patterns
Portable Best Spoon Pipes You Can Toke Almost Anywhere
The Cranium Silicone Water Pipe & Nectar Collector is a multi-purpose smoking device that is used for smoking buds, dabs, vaporizing, and collecting nectar.
A stand-out aesthetic feature in this pipe is the clear glass marbles in the head. These also allow for an excellent stable grip. The color trail is well designed and gives this glass bowl a significant visual effect.
The glass is a high-end, worked borosilicate, and is tempered so that thermal shock isn't an issue. High heat a cold doesn't melt the pipe or create cracks. The inside is smooth and helps prevent build-up while also making it easier to clean. This is a bowl you can boil without worries.
Features of the Rainbow Ripper include:
Worked borosilicate glass
Easy to clean
Rainbow stripes
Clear glass marbles for grip
Left side carb hole
Made in the USA Best Spoon Pipes You Can Toke Almost Anywhere
This is a classic hand pipe with a spoon head design – a stash pipe with a magnetic bowl cover, making it the most portable on the list.
The magnetic spoon pipe comes apart with ease and has a built-in cooling system. This is perfect for this hand pipe since smaller ones can typically hit harder due to lack of cooling space – in this case, size matters.
It has a lovely rainbow color finish and fits right in your pocket. You can preload and carry it with you discreetly. The bowl cover comes off and snaps back or swivels with ease for a quick toke and go. Just like the rest on this list, it is straight-forward but with more in engineering.
The features include:
Metal construction
Magnetic three-part detachable design
Fattened mouthpiece
Curved
Portable
Swivel lid
No carb
Easy to clean
Best Spoon Pipes You Can Toke Almost Anywhere
This spoon pipe is for aficionados, aristocrats, and those that like a beautiful piece. This lovely smoking bowl pulls clean and starts conversations.
My personal favorite for aesthetics, the marble spiral twirls, and rolls and amazes with a marble finish moving in the whole pipe. It slowly changes as you smoke through it, almost giving you a completely different pipe by the time you clean it. However, cleaning won't often be as the smooth inside helps prevent too much build-up.
The fumed glass adds durability and levels out any temperature sensitivities the glass may have. It comes in many colors, and those little balls on the outside look cool, but they help you hold it comfortably while you toke. No need to choose a color either; It comes with all of them in it.
The implosion Marble features include:
Implosion marbles
Fumed glass
4-5″"
High-quality glass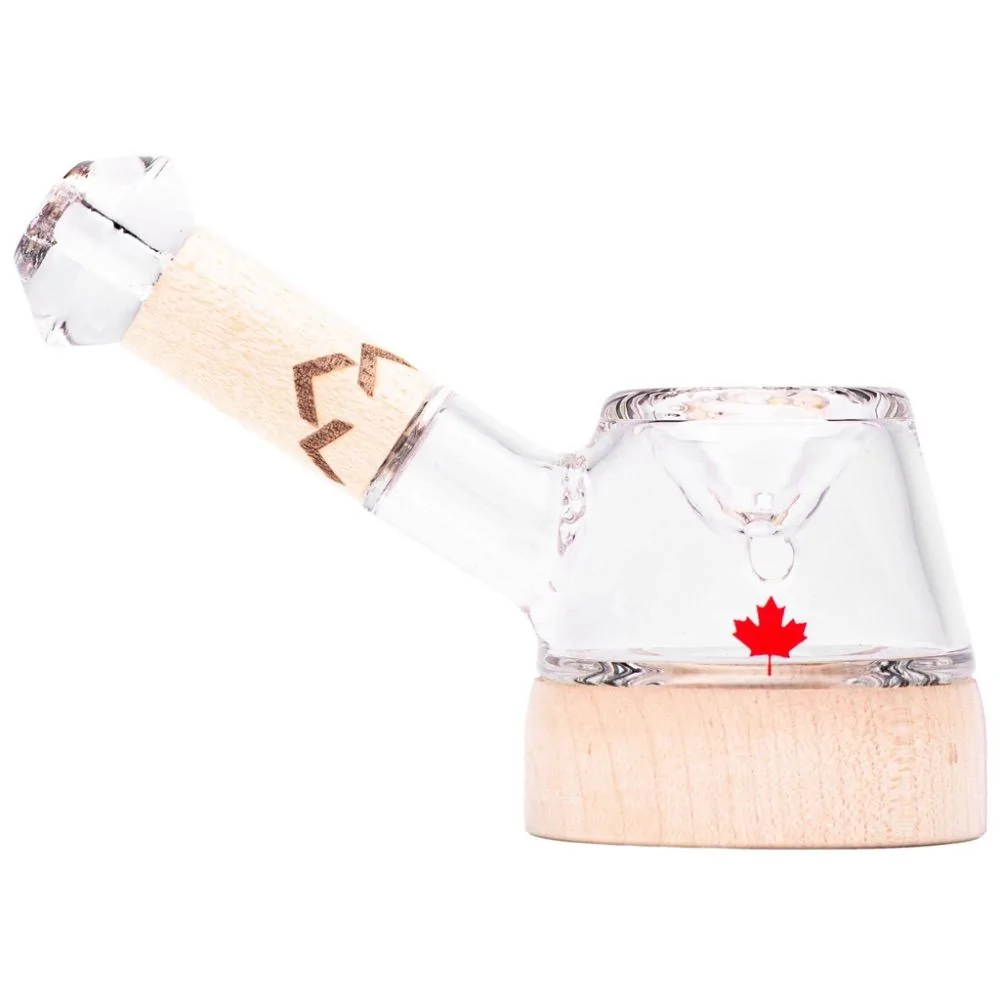 Best Spoon Pipes You Can Toke Almost Anywhere
This Canadian Maple wood spoon pipe is a looker, Eh?! It sits on its own and fits in your pocket, which is just one of the reasons we think it belongs here.
This extra large spoon pipe is a combination of handblown glass and maple wood grown in Canada. The parts are detachable for a more easy clean and it comes in a protective box that you can keep it stored in for safety.
However, it does fit in your pocket if you need to take a stroll. What is really unique about this spoon pipe design is its flat bottom, making it stable and easy to sit any where without the fear of it rolling off and breaking.
Features include:
Stable flat base
Spoon pipe with large bowl design
Authentic Canadian grown Maple wood
Handblown borosilicate glass construction
Bulbous glass mouthpiece
Detachable parts for easy cleaning
Use with dry herbs
Pocket-friendly portable design
Comes in a protective lined box
3 Ways to Clean Your Spoon Pipe
There are many different ways to clean any pipe. However, we are going to cover three that work just fine. But, it is all about preference and time.
For the first two, you will need:
90% Isopropyl Alcohol
Salt (regular table salt will do)
Your Dirty Spoon Pipe
Shake Base
Here you will mix the salt and alcohol in a container that is easy to pour into a smaller space. You will take the mixture and fill the pipe, blocking any holes, then shake and shake until it is clean. You may have to do this a couple of times until it cleans. Please make sure the alcohol is 90%, or it will not work as well.
Soak Base
This is the same as above except with a bit more patience. Take the alcohol/salt mixture and put it in a ziplock bag, and let it sit for a few hours. This is also a great way to prep for the shake method. I find this leaves the spoon bowl much cleaner without all the work.
Boil Method
This is self-explanatory. However, do NOT throw the pipe in the boiling water. Let it sit in the water as it heats so it doesn't shock and crack the glass. You also want to let it sit and cool in the water. If there are any places still dirty, use the above methods after it has cooled, or a pipe cleaner, to get in those hard-to-reach places.
Final Hit
The magic behind spoon pipes is their detail and uniqueness. Everyone I know has always OOHed and AWEd at these pipes, no matter what part of transformation they are in (most do change color). The short hit distance gives a harder hit, but that is the beauty of a spoon — they round out at the top to help calm the heat.
And let us not forget the purest of flavors when smoking through the nice hand-blown glass, of which most are made. Just be mindful of being too loose with it. Although they are typically made of strong worked glass, they are still glass and are more fragile than the metal or stone options. And, as always, smoke and share responsibly.